Retain, onboard, and develop your workforce. Cogito's coaching module streamlines the creation of personalized, data-driven coaching plans based on the comprehensive analysis of all calls and your agent's actions taken on real-time cues.
Let your supervisors virtually "walk the floor". Cogito Teams includes a dashboard that gives team leaders visibility into all live conversations regardless of agents' physical locations—in the office, at home, and even outsourced. The Cogito CX Score provides real-time insight into customer sentiment, pinpointing which calls require attention and intervention.
Cogito Emotion AI turns voice and conversation dynamics into a highly accurate score of the customer experience for every single call. It also keeps a pulse on your agents' well-being, surfacing early signs of agents' potential burnout. CX and EX Scores are generated in real-time, directing supervisors to difficult calls or agents needing their support.
Get insight into employee well-being and track team member fatigue, burnout, and frustration with Cogito's Well-Being Monitoring module. It surfaces early signs of declining morale to drive team leaders' intervention to keep your workforce happy and productive.
What our Customers are Saying About
Cogito helps our team leaders and managers have visibility on agent calls in real-time. It helps us understand how our agents' interactions will impact today's performance and enables us to coach our agents to better handle calls.
Fortune 25 Telecommunications Company
One of my teammates needed lots of help with delivering empathy generally speaking. Since using Cogito, his survey scores have hit higher numbers. Cogito reinforces the coaching I give him offline and now that he has a visual representation of his speaking behaviors he has been able to successfully target that behavior.
Fortune 150 Financial Services Company
On any given day, our agents can face high call volumes spanning a wide array of topics of conversation. Cogito has transformed these interactions, providing real-time support and guidance that helps agents empathetically connect and communicate. At the same time, we now have increased visibility into agent performance, allowing us to better innovate at scale.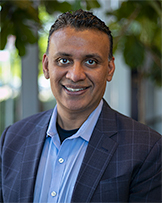 Senior Vice President, Global Contact Center & Franchise System Support, Wyndham Hotels & Resorts
With one of our experts to learn what emotion and conversation AI can do for your agents, team leaders, and your customer experience.