Proven at Scale - Used by the
Cogito is used by 5 of the Fortune 25 brands across diverse industries including healthcare payers; property, casualty, and life insurers; telecom and cable providers. With deployments up to 30,000 concurrent agents, Cogito is a proven solution meeting the most stringent enterprise requirements.
US Telecom & Technology Companies


Pharmacy
Benefits Managers

Janesh Patel, SVP, Global Contact Center & Franchisee System Support and Gord McNamee, VP, Hotel Technology & Client Support of Wyndham Hotels & Resorts discuss how they are leveraging Cogito's real-time emotion and conversation AI to drive higher levels of CX and EX in their contact centers.
A leading financial institution improved CX and agent productivity simultaneously using Cogito
One of the world's most respected financial institutions leveraged Emotion AI to improve its Net Promoter Score (NPS) and cut Average Handling Time (AHT) while transitioning to a work-from-anywhere model.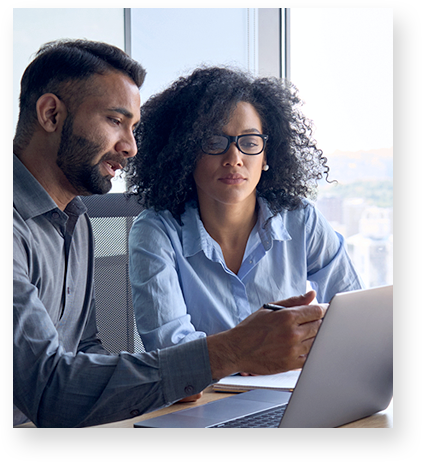 A large disability insurance provider drove member engagement with Cogito
A top disability insurance carrier developed a deeper, more human connection between members and case managers while reducing Average Handling Time (AHT) by 23%.
A regional healthcare insurer leverages in-call guidance for patient engagement
An F100 health insurer turned around a flat NPS and stagnant customer satisfaction ratings through in-call guidance and coaching.
On any given day, our agents can face high call volumes spanning a wide array of topics of conversation. Cogito has transformed these interactions, providing real-time support and guidance that helps agents empathetically connect and communicate. At the same time, we now have increased visibility into agent performance, allowing us to better innovate at scale.
Senior Vice President, Global Contact Center & Franchise System Support, Wyndham Hotels & Resorts
One of my teammates needed lots of help with delivering empathy generally speaking. Since using Cogito, his survey scores have hit higher numbers. Cogito reinforces the coaching I give him offline and now that he has a visual representation of his speaking behaviors he has been able to successfully target that behavior.
Fortune 150 Financial Services Company
Cogito helps our team leaders and managers have visibility on agent calls in real-time. It helps us understand how our agents' interactions will impact today's performance and enables us to coach our agents to better handle calls.
Fortune 25 Telecommunications Company
Let One of Our Experts Share
What Emotion & Conversation AI Could Do for You