Customer Contact Week 2023 Recap: Seizing Opportunities and Driving Momentum
Fresh from the recently concluded Customer Contact Week (CCW) event in Las Vegas, the Cogito team is more energized and excited about the future of customer experience (CX) than ever. The world's largest customer contact event brought together a diverse community of contact center leaders and influencers looking to network, learn and discuss the latest innovations aimed at creating better employee and customer experiences. Throughout the week, our Cogito team demoed our strengths and solidified our position as a leader in the industry through a variety of networking, learning and exploration opportunities to discuss the latest technology advancements in our space with our clients and contact center operations leaders.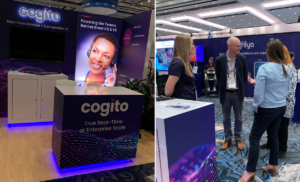 Here are several key takeaways that emerged throughout the week and memorable moments we experienced.
Workforce Innovation Recognition
Cogito's exceptional innovation in the field of Workforce Innovation was recognized in a big way at CCW 2023. Among over 200 nominations, Cogito was honored with the Silver medal in the Workforce Innovation of the Year Award for our Emotion and Conversation AI. This recognition showcases Cogito's pivotal role in shaping the industry's evolution through our Emotion and Conversation AI, where conversation intelligence drives the essential combination of improvedCX and employee experience (EX). Cogito's innovative technology, the pioneer in low-latency real-time guidance, continues to drive significant advancements and shape the conversation intelligence landscape.
AI's Pervasive Influence while Embracing the Human Touch
With AI becoming ubiquitous, the discussions and claims surrounding the technology were everywhere at CCW. Cogito is in a unique position to drive quantifiable value for both CX and EX to our end users with our industry leading combination of Emotion and Conversation AI. While EX was a strong talking point during the sessions, Cogito was the only company to offer a market-ready and scalable solution to address the growing need to measure EX in real-time on 100% of calls.
CX and EX were the core topics for our Think Tank session, "Powering the Teams Behind Great CX and EX with Emotion & Conversation AI." Our CRO, Mark Leonard, hosted the session and welcomed two of Cogito's customers on stage – Janesh Patel, Senior Vice President, Global Contact Center & Franchise System Support, and Gord McNamee, VP of Hotel Technology and Client Support at Wyndham Hotels and Resorts. Both leaders discussed how Cogito's Emotion and Conversation AI have positively influenced CX and EX within their organization. This inspiring session not only validated Cogito's impact but also proved insightful to many other organizations in attendance looking to improve both employee retention and customer satisfaction.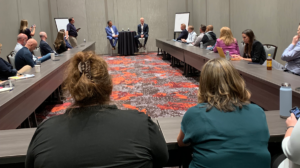 There was a shared recognition that industry call volumes and complexity continue to rise. Automation enables companies to allocate more meaningful and impactful work to human workers. Ultimately, the human touch in customer service remains crucial for brands to differentiate themselves and thrive in the future. To quote Janesh Patel from the client session:
"It's about EX, it's about your team members, it's about your employees. Leverage AI to give them power and tools to do their work effectively and remember, only humans can provide hospitality because we can listen and we can empathize."
In Case You Missed It
During the CCW event, our team announced a new twist on generative AI applications combined with Real-Time Supervisor Alerts, empowering frontline leaders to proactively address operational challenges, improve quality and enhance both the agent and customer experience in the moment.
New features include Real-Time Alerts for Supervisors and Quality Managers, and a personalized call summary for agents powered by generative AI. Many factors that negatively impact EX and CX are beyond the control of individual agents. That's where Cogito's advanced AI steps in to detect and alert operational leaders to frequently occurring issues and trends, allowing them to identify specific groups that may benefit from targeted solutions and paving the way for improved EX and CX on a larger scale.
CCW 2023 has reaffirmed Cogito's strong position in the conversation intelligence landscape and illuminated the stage for Cogito's continued success and trailblazing. With the groundwork laid at the conference, Cogito is now poised to seize the opportunity it has created. The team's hard work, dedication and successful execution during the event have generated momentum, which the company is ready to harness and propel forward.
If you didn't get a chance to stop by the booth for a demo, we invite you to schedule one now to learn more about how Cogito's emotion and conversation AI can help your business drive better CX, EX and operational outcomes.