Contact Center Week (CCW) in Vegas is a bustling hub of ideas and passion for the contact center industry. Over 3,000 customer contact and CX leaders attend this event to elevate their customer strategy with cutting-edge content, expert insights, and innovative solutions.
At CCW, attendees will see a lot of exciting contact center technologies filling the EXPO hall – and at times, it can be overwhelming. What booth should you stop by, which vendors should you meet with? In this blog post, allow me to make a case for why Cogito should be your first stop.
1. Emotion + Conversation AI
Cogito is powering the teams behind great CX & EX. While other companies listen to just the words, Cogito's advanced behavioral models can analyze unspoken human behavior and intent. This Emotion AI was born out of MIT research.
Today, Cogito brings together Emotion AI, analyzing over 200 voice signals, and Conversation AI, analyzing the words and topics discussed to deliver real-time cues to agents.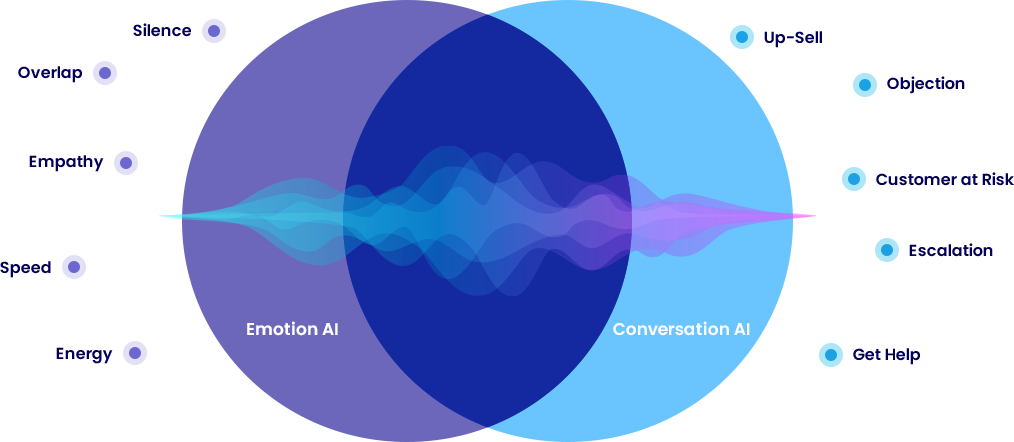 2. Innovative (Never Before Seen!) Features
We recently announced the launch of our Employee Experience (EX) Score, which measures employee sentiment on 100% of customer interactions. This innovative feature represents a first of its kind in the conversational intelligence space.
The EX score aims to help executives and operational leaders: 
Prioritize employee engagement 

Improve the onboarding experience 

Highlight risks of burnout amongst customer service professionals
In fact – new agents leveraging Cogito have been shown to achieve job proficiency up to 50% faster than those who do not use Cogito's real-time coaching and guidance.
3. Proven at Scale with Leading Brands
Cogito is used by 5 of the Fortune 25 brands across diverse industries. Its largest deployment of over 30,000 concurrent agents makes Cogito a proven solution for the most stringent enterprise requirements.
If you're interested in hearing from one of our clients, Wyndham Hotels & Resorts, stop by our CCW Client Roundtable on Wednesday June 21st from 12-12:45 PM PT.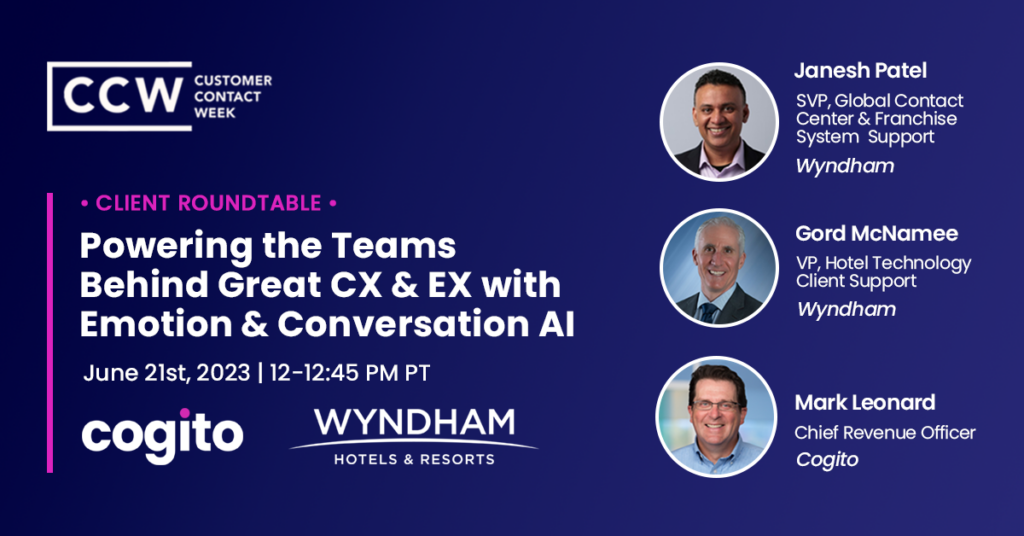 4. Experience You Can Trust
Since its inception in 2007, Cogito has been dedicated to equipping frontline teams with real-time emotional intelligence and insights to handle one of the most challenging and stressful jobs. Cogito is a spinout from the MIT Media Lab. Our Emotion AI technology was first validated by assisting healthcare providers to detect early signs of PTSD and other mental health disorders in soldiers returning from combat to prevent depression and suicide. It is now helping your customer service teams deliver better experiences, grow into better professionals, and be happier at work.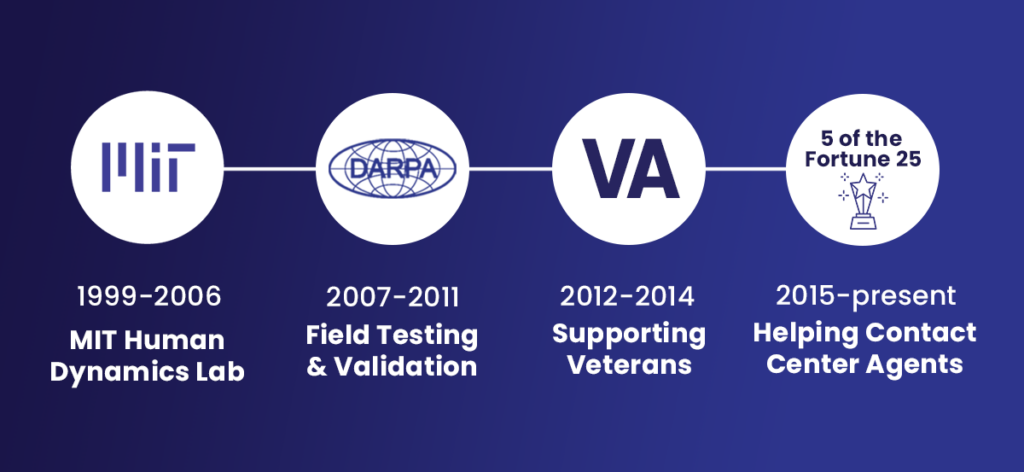 5. Beneficial Across the Enterprise
While Cogito improves customer experience (CX), our suite of solutions also improves employee experience (EX) and operational experience (OX) –  providing value to all stakeholder roles across the enterprise.
With Cogito Intelligence, operational leaders can enrich existing company data with precious insights into customer sentiment and agent well-being for a complete picture of your operations.
Customer Sentiment Monitoring
Keep a pulse on customer sentiment and provide an accurate CX measurement of all calls with a CX Score. Unprecedented insight into customer sentiment unearths a wealth of intelligence to inform operational decisions in both real-time & post-call.
Agent Well-Being Monitoring
Track agent well-being with an EX Score for early intervention to keep the workforce happy and productive. Analytics teams leverage this data to make sharper, more specific operational decisions to improve agent well-being and reduce retention risk.
6. Cogito Announced as a Workforce Innovation of the Year Finalist
The CCW Excellence Awards recognize the most innovative companies for their extraordinary contributions to the customer contact profession. Cogito was selected to be a Workforce Innovation of the Year Finalist for the 2023 CCW Excellence Awards, and we are honored.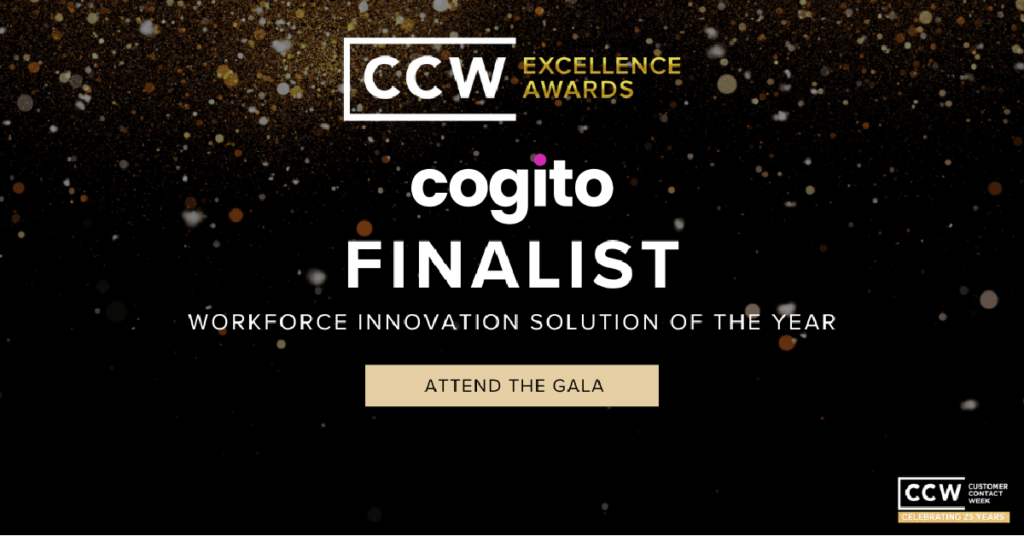 If you've made it this far, you can see why I am so passionate about Cogito. Let's connect – I welcome you to stop by Booth # 620 in the CCW Vegas Expo Hall. Our CEO Josh Feast will also be attending CCW, if you would like to meet him or schedule a personalized demo, please email us here.