This is the second blog post in a four-part series about employee experience. We encourage you to review the first blog of this series entitled, From Challenge to Opportunity: Tackling Positive Employee Experience in the Contact Center.
Although hybrid and remote work has gained widespread acceptance since the pandemic, many employers remain skeptical about their effectiveness. On the surface, a hybrid workplace seems like the perfect solution: employees enjoy the flexibility and benefits of working from home as well as the sense of community from working in the office. But how well does hybrid work in practice, and what is the impact of hybrid work on call center agents? Furthermore, what is the relationship between agent wellness initiatives and an organization's bottom line?
The Challenges of Hybrid Work Means Companies Need to be Even More Invested in their Workforce
It's no surprise that hybrid work creates communication hurdles that were not experienced in the office. Research from Microsoft's Human Factors Laboratory analyzed the difficulties associated with remote collaboration by using EEG devices to monitor brainwaves. They found that remote collaboration is significantly more mentally taxing than in-person collaboration. They also discovered that employees that began their work relationship remotely experienced more stress when these relationships transitioned to face-to-face. In other words, although hybrid work provides flexibility, it appears that adjusting to an untraditional working environment comes with initial challenges.
The call center industry has been especially impacted by the changes of the past few years. In fact, 71% of customer service agents work remotely as compared to the 13% pre-pandemic. These agents have experienced significant environmental changes, including makeshift home offices, transitioning to working with a single screen, and juggling home responsibilities during work hours. They receive less coaching, higher call volumes, and more emotionally charged calls. Supervisors face similar challenges, as it is more difficult to effectively support their teams from afar. Unsurprisingly, employees are more susceptible to cognitive overload, compassion fatigue, and burnout than ever before.
The Good News: Employee Wellness Initiatives are on the Rise
There's a silver lining to all of these challenges. Organizations are realizing how important it is to invest in the wellness of their employees. Fidelity Investment Group and Business Group on Health conducted a survey of 166 organizations of various sizes and found that organizational investment in employee well-being programs grew by 22% in 2021. These programs are dedicated to encouraging workplace well-being via job enablement, mental and emotional health, and work-life balance. And these investments are proving to be extremely worthwhile. Wellness programs have a substantial impact on lowering healthcare claims and costs, increasing productivity, and improving hiring and retention. In a study done on the ROI of employee wellness programs, Harvard researchers found that for every dollar spent on employee wellness, medical costs fall $3.27 and absenteeism drops $2.73. That's a 6:1 return on investment.
The Relationship Between EX and CX
Employee wellness programs have far greater benefits than just reduced healthcare and absentee costs. There is compounding evidence that employee experience (EX) is tied to customer experience (CX), and that happy employees lead to happy customers. To name a few:
So, how does one measure a quality customer experience? Forrester has divided CX into several factors, starting with the quality of the experience as an immediate touchpoint, and ending with more lagging indicators associated with customer loyalty. There is an inextricable link between the customer experience and a company's success. In fact, customers make three large decisions that impact the revenue of an organization:
Retention: will I continue being your customer?
Enrichment: will I give you more or less of my wallet share?
Advocacy: will I tell my friends, family, and social network about my experience?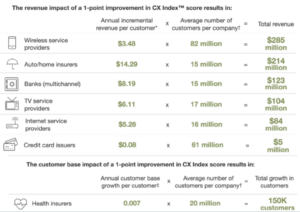 The Formula for the ROI of Agent Wellness in the Hybrid Call Center
We have established that agent wellness improves the employee experience. This has a meaningful impact on the customer experience, which drives ROI. Therefore, the formula for driving ROI through employee wellness is:

Increasing Agent Wellness with Cogito's Real-Time Support
As we all know, agents have stressful jobs and a number of these stressors are occurring during calls, when performance is most important. With more calls than ever, pressure to meet metrics, customer abuse, and hybrid work challenges, these agents need support in-the-moment. Research has shown that real-time coaching and guidance are significantly more effective than delayed feedback. When agents receive coaching during calls, they can alter their behavior immediately.
Here is where AI comes in. Augmentation technologies can provide support during every call to help humans perform to their fullest potential. These tools can offer real-time behavioral guidance, which both coaches employees in the moment and increases the consistency of performance. Additionally, AI tools can provide valuable data for supervisors to leverage during their coaching sessions.
Cogito is a solution built on the idea that supported, empowered, and happy call center agents will drive business ROI. Cogito's real-time agent support drives employee wellness in the call center by providing guidance for all work locations. Based on the agent's performance, we deliver in-call behavioral guidance while tracking overall customer perception of the call.
We also provide a solution for supervisors, who are finding it more and more difficult to connect and coach their teams effectively in hybrid settings. Our supervisor dashboard shows a summary of team metrics, Cogito use, and the current CX status for each agent – both in-call or overall for the shift. Even in fully virtual or hybrid settings, supervisors are now able to "walk the floor" and get a real-time pulse of their team performance and overall wellness. They can quickly identify coachable moments and streamline coaching sessions with actionable and relevant data.
To learn more about the Cogito solution, please visit cogitocorp.com/product/.