Published January 27, 2021
To coincide with last month's public release of our AI Coaching System, we are proud to introduce Cogito's new brand. Here, at Cogito, our mission is to help our customer-obsessed clients deliver empathy and augment emotional intelligence at each customer touchpoint in the Empathic Enterprise. Our AI Coaching System offers powerful capabilities that are human-aware, human-adaptive, and human-empowering, helping individuals thrive in the modern call center environment. We wanted our new brand identity to better reflect how humans are at the heart of everything we do, so our new brand identity is clean, modern, and yes: human-centered. 
I want to take a minute and talk about a couple of interesting elements of our new brand identity and explain why we made these changes.
What's New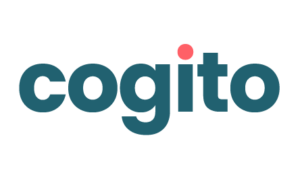 Some brand elements may catch your eye a little more quickly. Specifically, the "i" in Cogito represents that human at the heart of it all. We build technology to empower and augment humans. Our clients are customer and employee-obsessed. This "i" represents all of that. 
Additionally, we've adapted and expanded our color palette to further reflect the wide variety of human experiences and our commitment to elevating performance universally. You know what they say – a diverse palette is a happy palette! With the change in color comes a change in font, intended to convey friendliness and approachability, both key factors in quality customer service interactions. 
We've taken this opportunity to also reimagine our website and brand imagery to focus on our core message. We want our dedication to promoting inclusion and quality human connections to radiate from each icon, illustration, or image. While words can be powerful, alone, they're not enough to fully express our commitment to driving innovation that helps individuals live happier, healthier and more productive lives. Finally, you might notice our website carries a theme of "Human Connections", and it very clearly manifests itself through a background graphic found at the bottom of each landing page. This graphic element represents connectivity at multiple levels: for example, our groundbreaking work with signal-based machine learning, visually representing the deep neural networks of our models; or how we connect customers to employees and employees to one another, creating a network in which people and systems seamlessly work together to achieve optimal outcomes. 
Why It Matters
Paul Rand – arguably the father of graphic design – once said, "Design is the silent ambassador of your brand." Elements of our new brand, which might be considered small details like the color palette, still leave an impression on our customers and users. These are not inconsequential because they tell a part of the Cogito story, and our mission, in their own respect. Our hope with Cogito's new brand identity is that it truly demonstrates our commitment to our mission of elevating the human experience through what we do. The release of the AI Coaching System marks a milestone of amazing progress we made in 2020 to further develop more human-aware technology…and our new branding marks a renewed commitment by Cogito to dedicate the strength of our entire company, down to the last font size and tertiary color, to this new chapter in Cogito's story. 
As we move into 2021, we're proud of what we've achieved, but we know our work isn't done. As long as we can keep humans at the center of what we do – from augmenting human performance with human-focused AI models to collaborating with our clients to improve human outcomes and help them become more "Empathic Enterprises" – we know we'll all find success in this new year. We hope you like what you see. Let's connect.