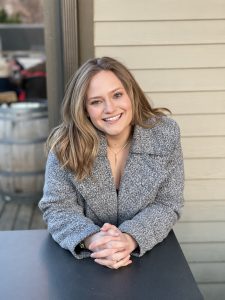 Why Cogito? 
We connected with Kaylee Conley, Marketing and Demand Generation Intern, to discuss why she chose Cogito for her Spring Internship. Kaylee joined the company in February of 2021 and works remotely from her home in Massachusetts. For this blog, Kaylee shares what drove her to join the Cogito team, what stands out about the product and what she is excited to learn in her time with the company. 
Tell us a bit about what you do for Cogito.
I currently work with the Demand Generation team to grow our prospect and client database through strategic marketing campaigns and other Cogito events like webinars. I also work with the People Team to develop blog content — like this one — for our website!
What do you think of the product?
Cogito's product is one of a kind. When I first began researching and learning about the company, it was amazing to see that it not only helps call center agents, but makes the experience better for the customer on the other end of the line as well. It can change how customer service operates by providing real-time coaching to agents over a broad range of industries.
What is your favorite aspect of the product?
My favorite aspect of the product is its ability to detect when a customer needs empathy. We often call customer service to assist in a situation that may be high stress — Cogito's product can detect these emotions, on either end of the line, and help agents adapt and respond in an effective way.
What stands out to you about Cogito in comparison to others in the industry?
The product capabilities closely represent the company at large. Cogito strives to be better from a product standpoint and represents this throughout the company culture. I have never experienced a group of individuals with more kindness in their hearts than I have here at Cogito. 
This product represents all of the hard work each individual Cogician has put into Cogito itself- and it speaks for itself. The versatility, the lack of interruption to the call agent, and all of the cues offered allow Cogito to assist call center agents in real-time rather than attend a multitude of trainings. It is proactive in customer satisfaction rather than reactive!
What was the biggest driving factor in your decision to join Cogito/take your role?
I have always been interested in AI (artificial intelligence) but what drove me to Cogito was something else — the Cogicians. As a full-time student and full-time intern, I was hoping to find a flexible internship while also providing a glimpse into work after college. After my first interview and discussion with the team, I knew Cogito was perfect for me. Their empathy towards me and excitement about work drove me to want to be a part of Cogito. Not only does Cogito have a great product, but there is an army of passionate Cogicians supporting the success of the company as a whole.
What are you most passionate about within your role?
Aside from developing relationships with Cogicians, assisting the team with demand and lead generation makes me passionate about work because it is vital to the company's marketing growth funnel. By providing new customer opportunities and assisting in the organization of campaigns, I can help in one of the first steps to product implementation in a new company call center. On top of that, my team's outpouring of support and positive reinforcement cultivates my passion even more.
What stands out to you about the people/culture at Cogito?
The Cogicians are like the product — one of a kind. During the first couple of months as an intern, anytime I have had questions, someone has been available to help. In my opinion, it seems like each person values work as much as their dedication and respect for each other. The empathy everyone holds for other Cogicians provides a comfortable learning environment! 
On days where school and work are difficult to balance, Cogicians have found a way to help me be successful in every aspect. Their support for each other as a team pushes me to want to continuously learn and grow within the company.

In our remote world, what is one way you like to connect with other Cogicians?
I am a part of the Women's Cogician Resource Group here at Cogito, which has helped me build relationships at the company.
What skills or experience do you anticipate gaining while working for Cogito?
As a new member of the corporate world, I anticipate gaining many skills and memorable experiences from Cogito. I hope to foster deeper emotional intelligence, increase my understanding of AI and put what I've learned in school into context to grow my knowledge of business operations!
What are you most looking forward to in your future at Cogito? 
Since I am currently fully remote, I am excited to meet my coworkers in person and develop customer and work relationships!
 
Interested in joining the team? View our open roles here.