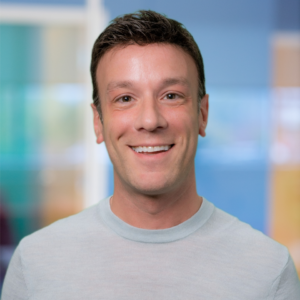 We connected with Benito Maldari, a Client Services team member, to discuss why he chose Cogito. Benito joined Cogito in October 2017 as our CEO's Senior Executive Assistant and, over time, transitioned to the role he currently holds: Principal Client Enablement Consultant. Benito shares why he was initially intrigued by the company and what he looks forward to in the coming years.
Tell us a bit about what you do for Cogito?
I work with new end-users and client stakeholders to create a learning and enablement program that will allow them to get the most out of Cogito's AI Coach from Day One. We strive to drive behavioral change and achieve long-term Cogito adoption!
What do you think of the product?
When I first heard of Cogito, I was taken aback by how innovative the AI solution was. I remember reflecting on my days as a frontline contact center employee and supervisor and how much easier my life would have been if I had been given access to a coaching tool like Cogito's!
What is your favorite aspect of the product?
The Empathy Cue and the way Cogito contributes to improving our frontline agents' experience are two of my most favorite parts of the product we have today.
What stands out to you about Cogito in comparison to others in the industry?
Cogito's real-time coaching is unmatched! Our teams are also made up of individuals with diverse backgrounds—many with actual contact center experience. This helps us take a unique, holistic approach to working with our users.
What was the biggest driving factor in your decision to join Cogito/take your role?
When I first interviewed with Cogito, I was impressed by the CEO, Josh Feast, who spoke so passionately about the company. I couldn't help but feel wrapped up in the enthusiasm that I got from him and every other person I met along the way…it was infectious! It was one of the best decisions I've ever made.
What are you most passionate about within your role?
I'm privileged to hold a role that allows direct contact with customers. The connections I've made at home and abroad is something I wasn't expecting in my early days with the company, but have come to cherish very much!
How does your role contribute to the company's purpose?
We work directly with frontline users, which allows us to teach them about Cogito and learn about their experience with the tool to collect valuable feedback. I'm also able to see their progress firsthand—our users often handle calls that are emotionally charged, and watching Cogito assist them in making their customers' experiences more positive is gratifying!
What stands out to you about the people/culture at Cogito?
I love how Cogicians of all backgrounds are valued. My team is made of individuals from all walks of life with varying career and education experiences. We all have a place at the table and are valued; our strength is in the differences that make up our backgrounds.
In our remote world, what is one way you like to connect with other Cogicians?
Taking time to switch on my camera during a Zoom or Google Hangouts call is so important! Seeing someone's facial expressions and seeing a glimpse of their life or surroundings helps me connect with Cogicians who might be on the other side of the country or the globe.
How do you embrace the Cogito culture?
I'm a member of our Pride+ CRG; this has been a real privilege for me. It's also a way to stay connected to other Cogicians even if I have moved away from our Boston office.
How do you envision the company growing in the next few years?
I'm excited to see Cogito continue to take on large, enterprise-scale clients and user groups. I think our innovation will be our strength!
What skills or experience do you anticipate gaining while working for Cogito?
The Enablement team has made leaps and bounds in recent months with our new leadership in standardizing how we teach users about Cogito. I'm excited to learn more about industry standards in L&D and how our team can continue to grow in this function.
What are you most looking forward to in your future at Cogito?
There is so much to look forward to! Travel, of course! I miss meeting with customers in-person for launch day activities and events. There is a certain energy in a contact center—a buzz—that I can't wait to experience again. I also look forward to spending time in our Boston office again!
Anything else you'd like to share?
I love that our leadership supported me in changing roles at Cogito, from our CEO's Executive Assistant to this client-facing role, and now as a remote employee based in Atlanta. I'm truly fortunate to work with individuals who back me up in my projects, both at work and outside of work.
Interested in joining the team? View our open roles here!