Published December 14, 2022
2023 is coming quickly and as you're building your strategy for the next year, here are the top 4 CX & business trends to watch for.
1. Investing in CX Matters More than Ever
2023 will be challenging, but also a year of great opportunity for the companies that choose to invest in their long term CX strategy. This next year should reveal which brands truly have a standout customer experience.
As Forbes says, "In 2023, we'll see the separation between great and mediocre CX teams." Investing in CX matters more than ever as every experience matters during a period of high inflation and a struggling economy, and it's in your hands to see where your CX teams will land.
2. Employee Experience Remains a Top Priority
Over the past year as part of the great resignation we have seen lot's of job turnover across the board. This movement paired with fierce competition for talent has put pressure on employers to ensure they are providing a top employee experience, which will continue into 2023. It pays big to invest in your employees…quite literally.
Reduce Costs with Employee Retention
Employee Churn costs companies a lot of money and positive employee experience (EX) leads to higher levels of employee retention. According to Gartner, only one in three customer service reps are engaged with 84% of them likely to look for a new job, which leads to customer service replacement costs of $14,113 per rep. In the best of times, agent churn is a challenge, with average turnover rates running at 30% to 45%. Forrester has recently reported on turnover rates almost twice that.
EX Drives Business ROI
There is an undeniable link between EX and CX, both of which drive business ROI. A McKinsey study found that engaged contact center employees are 3.3 times more likely to feel empowered to solve customer issues. The ROI doesn't stop there:
Harvard researchers found that for every dollar spent on employee wellness, medical costs fall $3.27 and absenteeism drops $2.73. That's a 6:1 ROI.
Companies with highly engaged workers report 20% higher sales.
Leading CX companies have 30% more engaged employees.
Top factors affecting the agent experience and leading to agent churn are feeling isolated, more complex calls, and more stressed customers. EX doesn't need to suffer; Human-aware AI like Cogito can drastically improve EX by helping your teams maintain human connections in the remote/hybrid world, enabling real-time coaching & guidance when it counts and providing a constant pulse on overall EX with a real-time EX Score.
3. Augmented Intelligence will be used to Scale Human Skills
A question as old as artificial intelligence itself: Will AI ever replace humans in jobs? With huge advancements in AI, it seems possible. While it is a valid fear, there are some tasks humans will always be able to do better than AI. Forbes states:
"As human jobs get augmented by technology, businesses must re-train staff with skills needed to work alongside smart machines and to grow their uniquely human skills that currently can't be automated."
It's true, some situations require the human touch. Consider qualities like empathy…would you want a robot to console you? Empathy is a beautiful human skill that builds strong emotional connections with customers. Real-time AI coaching & guidance can support your agents, reminding them when it's time to be empathetic.
4. Fragile CX Budgets Mean Teams Need to Do More with Less
Pulled directly from Forbes, fragile CX budgets mean teams need to do more with less. They state that "the majority of CX leaders think their budgets will increase in 2023, but a fragile economy puts those budgets at risk. CX teams will have to do more with less and focus on projects with the highest ROI."
Don't take risks when the economy is uncertain: invest in the right technology that can prove its worth. Cogito is a company that you can trust to improve business metrics and provide unparalleled results.
Proven ROI with Top Brands
Cogito is used by 8 of the Fortune 25 brands across diverse industries. Read our recent case study on how we helped a Fortune 100 company reduce AHT by 8% and improve NPS by 10 pts.
Janesh Patel, Group VP of Global Contact centers at Wyndham Hotels & Resorts says:
"On any given day, our agents can face high call volumes spanning a wide array of topics of conversation. Cogito has transformed these interactions, providing real-time support and guidance that helps agents empathetically connect and communicate. At the same time, we now have increased visibility into agent performance, allowing us to better innovate at scale."
Enterprise Scale
It's important that you can trust that your AI technology can support any quantity of agents. Cogito has successfully deployed its emotion and conversation AI platform to a Fortune 25 customer's 30,000 plus agent workforce, the largest deployment of its kind in the contact center industry.
Strong Origins and Experience
Cogito was born out of MIT and has many years of research and development. Initially deployed with backing from DARPA to help our military veterans returning from combat to diagnose PTSD and depression, Cogito is now helping tens of thousands of agents in the contact center to understand their customers better and deliver unparalleled experiences.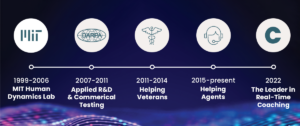 The bottom line: While the future & economy are uncertain and budgets are in flux, investing in the right technology is more important than ever.
If any of these trends resonate with you, we'd love to have a conversation. Schedule a quick 15 minute discovery call to see how Cogito can help you achieve your strategic initiatives in 2023.