Quarterly Dublin AI meetup (Q4 2017)
Published November 9, 2017
As of late, Dublin has been rapidly building a strong reputation as a European hub of technology development, both with large multinationals establishing headquarters in the area and with the number of local hi-tech startups popping up. Of particular interest within the tech scene in Dublin is the area of machine learning (ML) and artificial intelligence (AI). To help accelerate the development of ML and AI based software products, the quarterly Dublin AI meetup was started to bring together academics and industry players to discuss state-of-the-art technologies in the space, and to identify future trends and directions. People from Atrovate.com and Abven.com have been the main drivers of this event which, judging by the fact that tickets were sold out within a number of days, is growing in popularity with each new event.
This latest meetup, and the last of 2017, was held at Dogpatch Labs (http://dogpatchlabs.com/) – an impressive leading accelerator and coworking space in Dublin center. The event featured three speakers (myself included!) and lots of time for discussions and networking following the talks.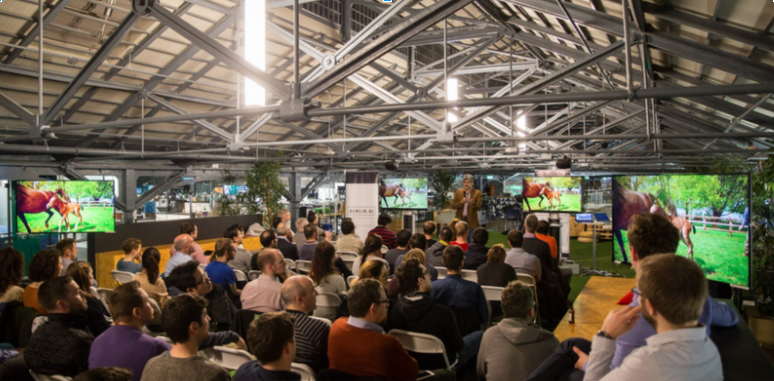 First to speak at the event was Anil Kokoram, professor and head of the electrical engineering department at Trinity College Dublin. Anil was part of the team that won a technical Oscar in 2007 for the image processing frame-interpolation technology, which enabled the "bullet-time" effects in the film The Matrix. Anil founded Green Parrot Pictures, a company focused on image processing and high-quality post-production which was acquired by Google in 2011. He then went on to become a technical lead at Google/YouTube where he worked on improvements and measurement of video quality to improve the video processing pipeline.
Taking the stage next, I provided an overview of the main machine learning trends in the area of emotion recognition from voice, touching on recent trends. These included the application of image processing techniques involving convolutional neural networks to audio, as well as deep learning approaches using multi-task learning and fully end-to-end models.
The final talk was given by Marie Wallace, the Lead Architect at IBM Watson Health. Marie focused her presentation on the area of "People Analytics" and gave a fascinating summary of the enterprise social network system which she developed at IBM.
Following the talks there was plenty of follow-up discussion, with a highly diverse range of perspectives from people focusing on natural language processing, computer vision, speech processing, social networks etc., all under the umbrella of machine learning and AI.
The next Dublin.ai (http://dublin.ai/) will be held on February 8th 2018 and promises to deliver more inspiring machine learning and AI talks and interaction.