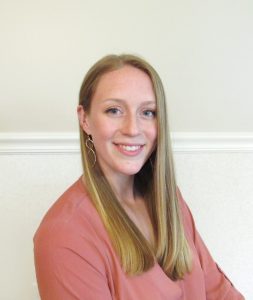 Last fall, Cogito announced our plans for a truly Office Optional workplace, one where Cogicians are empowered to make choices about where they work – whether in a physical Cogito office or not. 
In this edition of 'The Anywhere Office,' we want to introduce Morgan Sanders, Marketing Associate. Morgan joined Cogito as an intern in 2019 and transitioned to a full-time position in June of 2020. Morgan works on a hybrid schedule, splitting her time remotely from her home office and in Cogito's Boston office. 
Where is your 'home office'? Anything fun about your setup? 
My home office is located in my newly purchased and recently renovated home! I actually used Cogito's home office stipend to purchase an awesome electric standing desk for my space. It was great because it allowed me to splurge on an item – I might not have otherwise purchased – that will help me work more effectively throughout my day.
Tell us a bit about what you do for Cogito 
I am on the demand generation team in Marketing and I do anything from email campaigns to working on the website. I cover a range of different activities to bring awareness to our brand and what we do.
What are you most excited about as we move to an 'office optional' workforce? 
I am most excited about the new office optional program which allows me to choose whether I go into the office or stay home. I travel to the Boston office once a week, and love the extra flexibility in switching up my routine. Another benefit is the added free time without having a commute every single day.
What is one thing that surprised you about working remotely when the COVID-19 pandemic began?
Working from home has allowed me to appreciate the time spent with my co-workers prior to COVID-19. I was surprised at how well and how quickly Cogito transitioned to a remote environment. I find that we are working the same as before – if not better.
From a personal perspective, what is the biggest perk to working remotely?
Working remotely, I am able to spend time with my four legged Cogician Coco and my fiance Jordanio. With the added flexibility from working remotely, I chose to adopt Coco this April. During lunch, I am able to enjoy activities with my dog like walks and a game of fetch!
What old or new hobbies are you spending more time on lately?
With my extra free time from no commute and a lunch break at home, I have been taking up new hobbies and further exploring older ones. I have started to get back into running, weight lifting, mountain biking, and painting. I also have several ongoing home improvement projects like painting.
Interested in joining our anywhere office? See our open roles here.