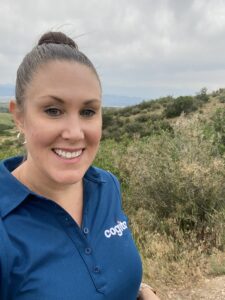 Last fall, Cogito announced our plans for a truly Office Optional workplace, one where Cogicians are empowered to make choices about where they work – whether in a physical Cogito office or not. 
In this edition of 'The Anywhere Office,' we introduce Megan Szabo, who works on our Legal Team as Associate General Counsel. Megan joined Cogito in 2019 and while she was originally based out of our Boston office she now works remotely from Colorado.
Where is your 'home office'? Anything fun about your setup? 
My home office is in Highlands Ranch, Colorado, which is in the suburbs of Denver! My official office is located in a "bonus room" with a fireplace and chandelier.
Tell us a bit about what you do for Cogito 
I work in Cogito's legal department to help out the company with anything legal related. I love the breadth of my role because one hour I may be negotiating a strategic contract for the company, and the next I am helping facilitate the company's Intellectual Property strategy.
What are you most excited about as we move to an 'office optional' workforce? 
I am incredibly grateful for the transition to office optional. Previously, I was living in Boston with my two-year-old, pregnant and lacked family support in the immediate area. The Office Optional policy allowed me to move to Colorado, where I grew up, and surround myself with family. I am fortunate to see my parents daily while they help take care of our 7-month-old Madeline, — and we benefit from the extra help of wrangling our toddler on exhausted weekends. With this policy, the decision to move to Colorado didn't force me to choose between working at Cogito or having family around.
From a personal perspective, what is the biggest perk to working remotely?
The biggest perk from a personal perspective is the ability to spend time with my family. Before the pandemic, my commute was around an hour and a half. The remote work allowed me to spend more time with my family and children instead of sitting on the T! Not to mention, a pregnancy without having to use the T was nothing short of a dream come true.
What old or new hobbies are you spending more time on lately?
Before the pandemic hit, my schedule did not allot time for exercise at a reasonable hour. Since Office Optional, my hobby of working out has become easier to manage!
Interested in joining our anywhere office? See our open roles here.