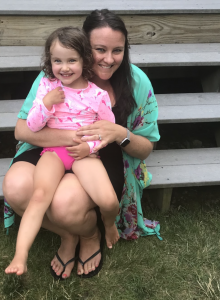 Cogito recently announced our plans for a workplace that is truly Office Optional; one where Cogicians are empowered to make choices about where they work.  Workspace will no longer default to meaning a physical Cogito office.  
In this edition of 'The Anywhere Office' we want to introduce Kristen Bishop. Kristen joined Cogito as a Senior Technical Recruiter in October of 2018. As a member of our talent team she has helped grow our engineering and behavioral science organizations. Kristen is from the South Shore and has a hybrid work arrangement where she is in the office a few days a week (when it's safe!) as well as out of her home office.
Tell us a bit about what you do for Cogito? 
I work primarily with our Engineering and Behavioral Science departments on all things hiring related.  I also do a lot of our employment branding and hiring events work.
What are you most excited about as we move to an 'office optional' workforce? 
I am most excited to be able to spend more time with my kids. I have a 1 year old and a 4 year old and the extra time with them has been great. I got to see my one year olds first steps, and have been teaching my daughter how to swim in the evenings. Having the option to continue to work from home more and be able to enjoy that extra family time is a huge perk.
What is one thing that surprised you about working remotely when the COVID-19 pandemic began?
I sometimes miss my commute that I thought I hated! I am a big reader and my time on the commuter rail twice a day, where my phone doesn't always get great service, meant I always got my reading time in – now I have to be more intentional and find time to read.
From a personal perspective, what is the biggest perk to working remotely?
Balance. Being able to structure my day so that I can get the most done professionally as well as get some things done around the house, go for a walk or have lunch with my family has been huge.
What are you working on that excites you this year?
I am looking forward to the DEI work that the People and Talent teams are focusing on this year.  Cogito, like most companies, has some work to do in this area but I am happy to work somewhere that is developing an actionable plan and I am looking forward to being part of it.
What old or new hobbies are you spending more time on lately?
My backyard has never looked better. I have done a lot of gardening and outdoor projects and we are getting a lot more use out of our pool than we usually do. 
Interested in joining our anywhere office? See our open roles here.