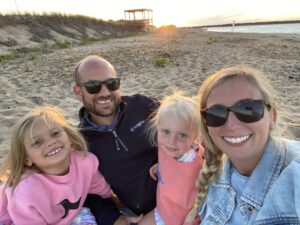 Cogito recently announced our plans for a workplace that is truly Office Optional, one where Cogicians are empowered to make choices about where they work. Workspace will no longer default to meaning a physical Cogito office. 
In this edition of 'The Anywhere Office' we want to introduce Derek Popek. Derek is our Senior Manager of Talent.  Derek joined Cogito in September of 2017 to build out the recruiting function. He is based North of Boston, and splits time between home and our Boston headquarters.
Tell us a bit about what you do for Cogito?
I lead the Talent team. We build sourcing and recruiting processes that focus on creating excellent candidate experience and result in hiring Cogicians. For me this means running a handful of individual reqs, leading a team of recruiters and working on cross functional projects to ensure our employment brand and recruiting programs are working.
What are you most excited about as we move to an 'office optional' workforce?
I like having more time with my kids. It is great being able to eat lunch with them outside on nice days or going for bike rides after the work day ends.
From a personal perspective, what is the biggest perk to working remotely?
The biggest perk is being able to spend more time with my family and take care of household chores. My 5 year old daughter has learned to read and ride a bike over the last few months. It was awesome to see that first hand rather than through pictures or videos. I value those experiences a lot. I have also been able to get a lot of yard work and house projects completed this year which is nice too.
From a professional perspective, what is the biggest perk to working remotely?
The biggest perk is not having to commute into Boston. I have about an hour each way which can include multiple modes of public transportation. It is nice not having to rely on the MBTA daily. I enjoy having that extra time for recruiting projects that have been put on the back-burner.
What are you working on that excites you this year?
I am excited to be working on the Future of Work project. It involves working with all parts of our company to craft a vision of what things look like as we move to "Office Optional." In addition to collaborating cross-functionally, it allows me to rethink our recruiting processes and be more creative in how we hire talent. Once this is finalized, we'll work more closely with Marketing on our branding Cogito as a place where we empower employees to work where they like, rather than making them come into an office.
What old or new hobbies are you spending more time on lately?
I have been doing a lot of work on the house. We painted the outside of the house and did a lot of yard work this summer. We re-insulated the attic and built some storage up there. We're planning to  repurpose an old coat closet for arts and crafts because that is something my kids are really into right now and will probably be doing a lot more of this winter.
What tips do you have for other people whose companies allow remote work for drawing the line between home and work?
Create a schedule which will give you some separation from work and home. Think about the schedule more as guard rails so you draw boundaries but can vary when needed. And get outside. No one should be tethered to a computer all day. Go for a walk. Sit outside for 15 minutes. Water your garden, etc…do other small household chores during the day so you break up the work schedule. I also created a "fake commute" where I drop my kids off at their schools on Tuesday and Thursdays. Even though their schools are close by, it is nice to walk them there in the mornings and give myself a little commute before I start the work day.
Interested in joining our anywhere office? See our open roles here.