The "How" of Augmented Intelligence
Published September 14, 2018
Overcoming latency makes real-time REAL.
Cogito uses artificial intelligence to augment human intelligence; specifically, emotional intelligence. That's right—we use technology to help humans be more human. Almost ironic, isn't it?
So, how does one actually use AI to augment human functioning? The most recent blog post talked about the importance of sensing behavior through non-verbal cues and guiding agents with notifications at the moment they're needed. Delivering real-time coaching is a huge change from what's been done previously.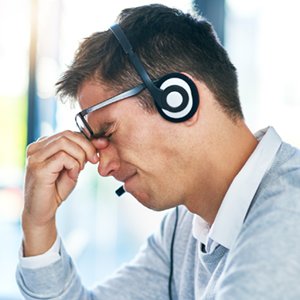 In the past, agents may have taken hundreds of calls before a supervisor would tell them, "You could have handled that call differently." Now, that particular call might have taken place a week ago. What can an agent do with information from an hour ago, let alone a week ago? It comes too late and too infrequently to modify behavior when it really matters.
Far more effective feedback occurs at the moment it can be put into action. The key is to reduce the delay in coaching feedback from weeks or days to milliseconds.
During a live call, Cogito's low-latency compute engine analyzes hundreds of unique behavioral signals to stream objective behavioral guidance in just milliseconds.
We call it "blink time": In the time it takes to blink, we're providing behavioral guidance for that particular situation, as it happens. If you're interrupting, you need to be notified while you are still interrupting!
How It Works
Cogito acquires channel-separated audio from your telephony system. This allows us to isolate customer and agent speaking behaviors as well as the conversational exchange. During a call, the tech breaks the conversation down into increments of milliseconds and analyzes over 200 different vocal, non-verbal signals, such as porosity, tone, tension, speaking pace, vocal effort, turn-taking, and mimicry. These signals are then analyzed and correlated with the insights from tens of millions of conversations using our proprietary artificial intelligence.
The results are three-fold:
Cogito provides agents with the ability to make an immediate impact on the call through real-time notifications which nudge agent behaviors.
The technology detects the customer's perception of a call and updates an overall customer experience score.
Agent behaviors are closely correlated to critical call outcomes and key patterns are identified.
In companies using our technology, we've demonstrated a strong correlation between the Cogito customer experience (CX) score and transactional net promoter scores (tNPS). In other words, the Cogito CX score can serve as a leading indicator of tNPS, or customer satisfaction!
All this data helps everyone in your organization — from the agents and supervisors to operations and service leaders — make more-informed decisions. Senior executives can observe if their company is living up to its brand promise and the corresponding impact to the bottom-line.
The past few blog posts have talked about the what, why, and how of augmented intelligence. For the final post in this series, we'll talk about how it's being used and who stands to benefit in the contact center.
Click here to read the previous posts in this blog series:
The "What" of Augmented Intelligence
The "Why" of Augmented Intelligence
Download Your Free Ebook, The Cogito Guide to Emotional Intelligence
Emotional intelligence—the ability to use emotions in the service of better decisions—is a latent asset in your organization. Learn how to unleash it in this free ebook.