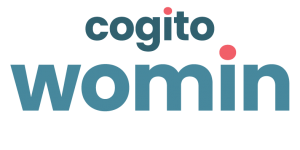 Here at Cogito, to accelerate our progress toward a true culture of Diversity, Equity and Inclusion, we recently launched Cogician Resource Groups (CRGs) — all fully sponsored and supported by our Senior Leadership team. I quickly volunteered to act as a co-coordinator of our Cogito Womin group because I know how important supporting other women and fostering a culture of inclusion is.  
I joined Cogito as the Principal Executive Talent Partner in January of 2020. As an executive recruiter, I've always been hyper-aware that diversity—particularly female leadership—is highly desired and necessary at all levels of a company, including senior leadership teams. I am passionate about shining light on just that and sparking meaningful  conversations with the Womin CRG.
Why the "I" in Womin? The use of "I' emphasizes that the word is not just a derivative of "man," but a symbol of inclusion. Our mission is to support and promote the advancement of Womin at Cogito through information sharing, education, wellness and philanthropic initiatives and by acting as benefactors for others in their professional development.
Martha Sager, Vice President of Business Development, has been with Cogito for over three years and is honored to be the executive sponsor of this program, using her experience to connect and support the women of Cogito. While chatting with Martha, she passionately explained, "I will use my voice to share their voices and amplify OUR voices. Community is powerful. It provides support and resources focused on shared interests and challenges. The importance of contributing our perspectives is paramount to becoming strong leaders capable of continuous personal and professional growth." 
As co-coordinators, Morgan Sanders and I help to facilitate the monthly gatherings of the Womin CRG. Morgan joined Cogito in 2019 as a Marketing Intern and for the past year has been a Marketing Associate, working on the Demand Generation team. We hope to achieve a sense of community within the group, offering a safe space to connect , and an environment where people feel comfortable speaking up. By creating this space, we have open and supportive conversations.
As a group, we've discussed which initiatives would be most valuable to the members, for example, welcoming new speakers, setting up roundtables and ideating opportunities for local members to get together.
As I progress in my career, I strive to be a mentor and help lift women where I previously encountered challenges. I want to help other members navigate obstacles in their careers, so they don't have to struggle as much as I did within my own generation of women in business. 
While catching up with Morgan about the CRG, she expressed that being in the early stages of her career, she has always been very interested in seeing women in leadership positions, especially at Cogito. Morgan explained, "Part of the reason I wanted to join the group was to get mentorship and learn more about the different women of the company and how they could help me grow." The Womin CRG allows her to get to know the different women of Cogito and their roles, and gain that sense of mentorship that other members can provide. Connecting with  various women has helped Morgan grow, both personally and professionally. 
To date, the Womin CRG has had two guest speakers, one being Acclaimed Yogi, Christopher Sims. Christopher is a Hatha Yoga Instructor with a meditation-centered approach to his craft, who has cultivated a following from the Coast of California to the shores of Mozambique. Christopher spoke with the CRG back in November of 2020 to introduce wellness through an overview of breathing and meditation techniques to promote relaxation. This seminar came when many of us had still been adjusting to the "new normal" — and learning these techniques have proved worthwhile to integrate into our daily lives.
In celebration of International Women's Day on March 8th, the Cogito Womin CRG sponsored an event for all Cogicians, with special guest Carrie Collins, the CEO and Founder of H.O.W. (Highly Organized Woman). Carrie delivered a workshop on time management, sharing tips/tricks on how to "let busy know who's boss." Keeping clear notes on to-dos, using an information inventory to prioritize, incorporating calendar management, and being situationally aware were all part of her presentation. 
Looking to the future of the Womin CRG, we hope to see continued growth of the group and aspire for it to become a common place where Cogicians can gather. We want members to continue to feel it is a safe space and get value out of their time invested in the group—and with the tremendous groundwork laid already, we're confident we'll get there. 
Learn more about our Diversity, Equity & Inclusion (DEI) Initiative here.
Interested in joining the team? View our open roles here!