One of my favorite moments as a leader is when I have the opportunity to recognize impressive achievements and reward success. Recently, my co-founder and Cogito's CTO, Dr. Ali Azarbeyijani and I had the opportunity to present our first ever Cogito Founders Award to two inspirational and accomplished individuals.
The Cogito Founders Award recognizes those team members who deliver transformational change to the business. Individuals that think beyond the norm and put the people and processes in place to fundamentally shift Cogito's business to a higher plane. The award can be given to anyone in the company for leading us to a new technical discovery, go-to-market model, approach to deployments or cost-saving improvements. I was very pleased to present the first awards to our Chief Behavioral Science Officer, Dr. Skyler Place and our Chief Revenue and Customer Success Officer, Douglas Kim.
Here's a bit more about each of these incredible Cogito employees and what they have brought to the company:
Dr. Skyler Place joined Cogito as employee number five, leading the visioning, selling, marketing, product development and deployment of Cogito Companion, a mobile health monitoring system that helps deliver proactive mental health care. He won contracts with key organizations, such as the Veterans Administration and the National Institute of Mental Health, to put the mobile application in the hands of the people that needed it most. Skyler recruited a team of high-caliber talent, leading them to such a successful state that we were able to launch the spin out CompanionMx, a company dedicated to preventing mental health episodes. In addition to CompanionMx, Skyler has played a key role in bringing Cogito to market and supporting its continued enterprise adoption. Skyler has helped create a first of its kind application that merges validated behavioral science with machine learning to improve the performance of phone professionals. He continues to work closely with clients to translate innovative technology and approaches into tangible business results.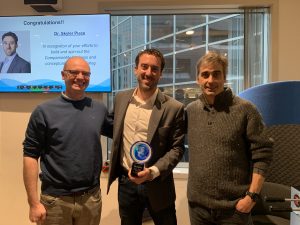 Douglas Kim joined us nearly four years ago. He immediately grasped the potential of Cogito's technology to improve the enterprise customer service experience and played an important role in connecting the technology's potential to this large market with an unmet need. Douglas has been instrumental in bringing Cogito's technology to the attention of the enterprise executives who lead more than five million phone professionals in the U.S., across sales, service, claims and care. He demonstrated the passion, intelligence, and determination needed to help crack open the market for Cogito. He recruited key talent, helped form partnerships with premium brands such as McKinsey and Salesforce, built personal relationships with customer executives and played a major role in our fundraising processes. Thanks to Douglas' efforts, Cogito is now successfully deployed in some of the largest, most customer focused organizations in the world with a rapidly expanding footprint.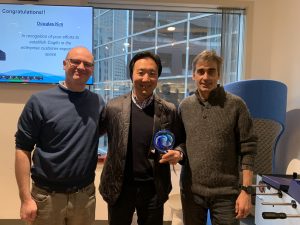 Founders like myself live for the days when we can celebrate success with our teams. Ali and I are thrilled to recognize Skyler and Douglas, and we hope the Founders Award serves as inspiration to other employees – at Cogito and beyond – to help drive the transformational change that is possible in the world today.
Congratulations, Skyler and Douglas!